GRL is a vinyl house DJ from Waterford, Ireland. A concept created by the infamous techno DJ, Cailin. During this event Cailin will be playing against herself in a very special and never seen performance, where she will start with her inspirations of house as GRL and progress into her more renowned industrial electronic selections. 
Roots
Hailing from Waterford, Cailín is known for her dedication to the art of djing and vinyl only style. A name applauded in Berlin and recognised as far as the Americas, the 2x Boiler Room selector has rightfully become one of Ireland's most respected DJs. In light of her success as a techno selector, Cailín has recently begun to express her roots in Waterford's house music scene under a new alias – GRL. Culture Night 2023 brings you another premiere performance, where Cailín takes on GRL in a battle of two minds which exist within the one. 
Experiences
A long-time resident at District 8 and Subject, Cailín regularly appears alongside huge names such as Jeff Mills, Dave Clarke, Richie Hawtin, Ben Sims, Ben Klock, Paula Temple and Dax J to name just a few.
Earning slots at Tresor Berlin, Dockyard Festival at ADE and Bossa Nova Civic Club in NYC, as well as being a regular Ireland's biggest festivals, with closing sets at Life's Index stage and EP's Anachronica stage, reflects Cailín's pure ability to work the turntables and adapt to any crowd.
As a producer, Cailín's discography is steadily growing. Her debut 12″, 'Phantom Love Affair', 4 tracks of raw, machine fuelled techno, caught the ear of Dave Clarke, who chose her as one of his favourite producers of 2021.
Shortly after she contributed to Ben Sim's huge Symbolism VA as a handpicked artist alongside an all star cast. Since then, she has had a steady stream of releases on labels like Reckless, [R]3volution Records & Diffuse Reality with more on the schedule for 2023.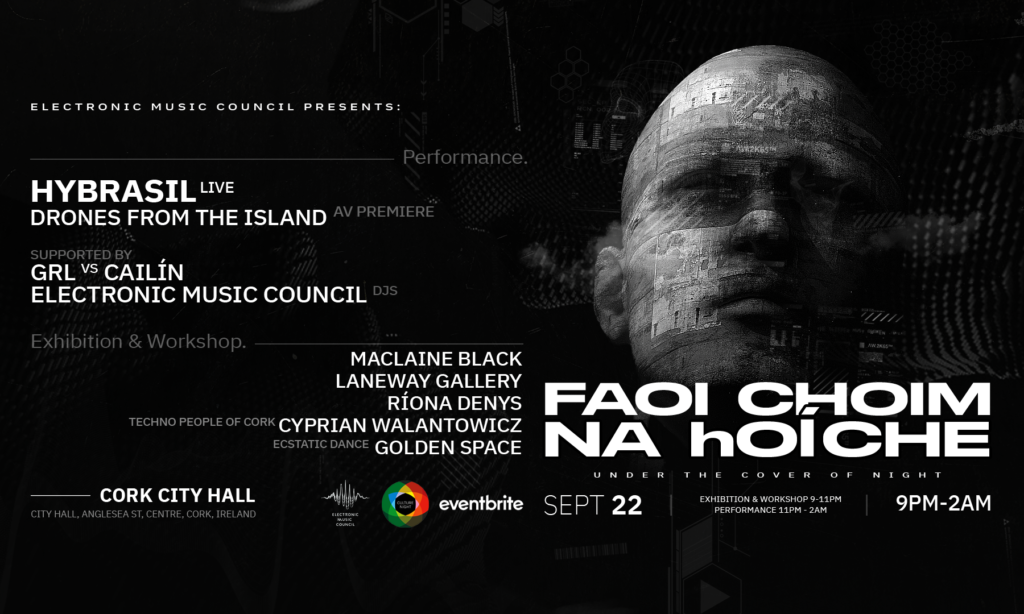 Links
Cailín: https://linktr.ee/cailin1210
Tickets
Ticket link: https://www.eventbrite.com/e/faoi-choim-na-hoiche-culture-night-2023-tickets-698327876477?aff=ebdshpsearchautocomplete
Main Funding Body
Arts Council: https://www.artscouncil.ie/home/
Additional Sponsors
Poachers Drinks: www.poachersdrinks.com/
Underground Ovation: Underground Ovation (underground-ovation.com)
The Woodford Bar & Restaurant: www.thewoodford.ie
McSweeney Distribution & Logistics Ltd
Satellite Taxis: https://www.satellitetaxis.ie/
Primetime: https://prime-time.ie