GEOFF SPIERS
VISUAL ARTIST
LANEWAY GALLERY OWNER
PROFILE
Geoff is a painter and digital artist who has been based in Cork since 2001.
His work, described by the science fiction writer JG Ballard, as "very striking and original", explores the landscape of human nature, sometimes literally, in a world where the media is omnipresent and in which we are constantly under surveillance or scrutiny and increasingly isolated from each other and our true nature.
Francis Bacon's abstract figuration, William Burroughs' cut-ups, Ballard's dystopian futures, Max Ernst's surrealism and Warhol's serial pop imagery simmer beneath the surface of Spiers' colourful images.
In late 2022 Geoff opened the Laneway Gallery in Shandon with the aim of not only showing his own work, but also as an independent space to show and promote other local and national artists work.
Not long after opening, Geoff a long time fan of electronic music, met and collaborated with EMC for Culture Night 2022.
WEBSITE
lanewaygallery.ie artspiers.com
INSTAGRAM
@lanewaygalleryireland @art.spiers
CIANO
VISUAL ARTIST
PROFILE
Ciano is an Irish visual artist working out of his studio in East Cork. He typically sells his work internationally through social media.
Through acrylic, spray paint, and mixed media, he brings to life intuitive creations that are intended to uncover unique connections and unexpected perspectives, inspire joy, and open our eyes to beauty in all its forms.
With humour, a degree of irreverence and a strong nod to street pop culture in our multimedia metaverse, large-scale expressionistic graphic works drawn from a multitude of sources envelop viewers in a cacophony of colour, line, and positive emotion.
Drawing from his background as a DJ and music producer, his process is instinctual and fluid, responding to the beat and rhythm of the given moment. His work is about being present.
Each one demands a reaction from the viewer.
Ciano had a show in the Laneway Gallery in May 2023.
WEBSITE cianoart.com
INSTAGRAM @ciano_artist
SILVIO SEVERINO
VISUAL ARTIST
PROFILE
Silvio Severino (aka loop_conspiracy), is a contemporary photographer, collage artist, illustrator, filmmaker and popular music enthusiast.
He works in both analog and digital formats, which puts him in a unique creative position, whereby he can cross and recross the traditional and the contemporary.
Silvio is interested in exploring a range of contemporary issues: the natural world, urban landscapes, technology, space travel, consumerism, the idealization of beauty and sexuality, art versus capitalism and the banality of publicity and celebrity.
Silvio was born and raised in Brazil, but has spent the last twenty years in Europe and now lives in Cork , Ireland.
Silvio had a show in the Laneway Gallery in July 2023.
WEBSITE www.saatchiart.com/silvioseverino
INSTAGRAM @loop_conspiracy
RIKI MATSUDA
VISUAL ARTIST
PROFILE
Riki Matsuda is a Japanese-Irish artist based in Sample-Studios, Cork. Her work plays with miscommunication and utilizes minimal linework and text to create visual poetry.
Matsuda has built an approachable language based on the limitations she experienced being raised in a culturally mixed environment. Her work is a recording of these observations and her newfound awareness of the nuance and humor found in misunderstanding.
WEBSITE www.rikimats.com
INSTAGRAM @riki_mats
JOANNA HOPKINS
VISUAL ARTIST
PROFILE
"I am a visual artst using research, video, photography & installaton to explore a contemporary interpretaton of folklore & plants. By slowly gathering colours & myths taken from the land, then placing them back into the landscape, I aim to bridge the metaphysical gap between humans & plants – can our bodies be extensions of the living landscape?
I have exhibited across Ireland, the UK, Europe, China & the US. Solo Exhibitons include Fruity Bodies, DLR Lexicon, 2025 & GOMA Waterford, 2023; The Growing Gallery, DLR Lexicon, 2022; Sympathetc Soup, Dublin
City University, 2021; Awards include Platorm 31 Selected Artst 2022; Arts Council Bursary Award 2021;
Residencies include Interface Inagh, 2025; Dublin City University Artst in Residence 20-21; Artst in Residence, An Urgent Enquiry, Fingal, collaboratng with artst Mary Conroy, 2019; Artst in Residence in a Healthcare Setng, Bealtne, 2017; Mayo Arts OfceTir Saile Public Art Residency The Marram Meitheal, 2017. "
Joanna was featured in Meant To Fade at the Laneway Gallery in June 2023.
WEBSITE www.joannahopkins.com
INSTAGRAM @joanna_hopkins_art
ELINOR O'DONOVAN
VISUAL ARTIST
PROFILE
Elinor O'Donovan (b.1995) is a multidisciplinary artist based in Cork, Ireland.
In her practice which spans sculpture, drawing, digital collage, film and installation, she makes reference to internet memes, cartoons, and film and tv tropes. Her work is concerned with playing and she playfully explores the ways that popular culture influences memory and knowledge.
Originally from Cork City, O'Donovan received her BA from Edinburgh College of Art in 2019, and has since participated in residencies and exhibitions in Ireland, the UK and Europe. Her practice has been supported by funding from the European Union, the Arts Council of Ireland, and Cork City Council. In July 2023, she presented a major solo exhibition of new work at Generator Projects, Dundee, which was her first solo exhibition in the UK.
Elinor's WARP SPASM was shown at the Laneway Gallery in May 2023.
WEBSITE www.elinorodonovan.com
INSTAGRAM @elinorodonovan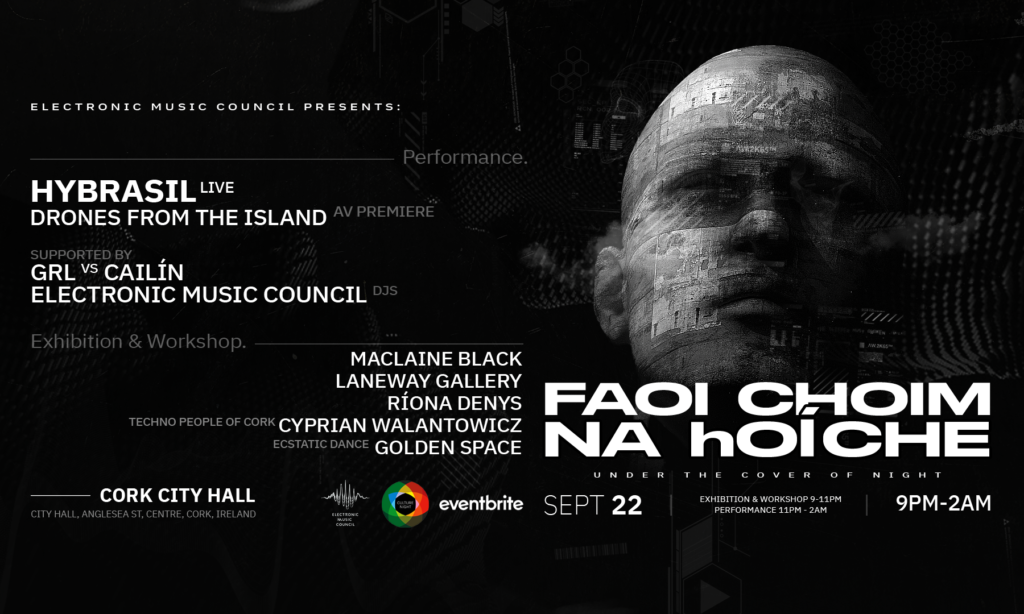 Tickets
Ticket link: https://www.eventbrite.com/e/faoi-choim-na-hoiche-culture-night-2023-tickets-698327876477?aff=ebdshpsearchautocomplete
Mailing List: https://electronicmusiccouncil.com/2023/08/31/1st-half-of-tickets-gone-sign-up-to-our-mailing-list-to-be-the-first-to-know-about-the-2nd-round/
Main Funding Body
Arts Council: https://www.artscouncil.ie/home/
Additional Sponsors
Poachers Drinks: www.poachersdrinks.com/
Underground Ovation: Underground Ovation (underground-ovation.com)
The Woodford Bar & Restaurant: www.thewoodford.ie
McSweeney Distribution & Logistics Ltd
Satellite Taxis: https://www.satellitetaxis.ie/
Primetime: https://prime-time.ie