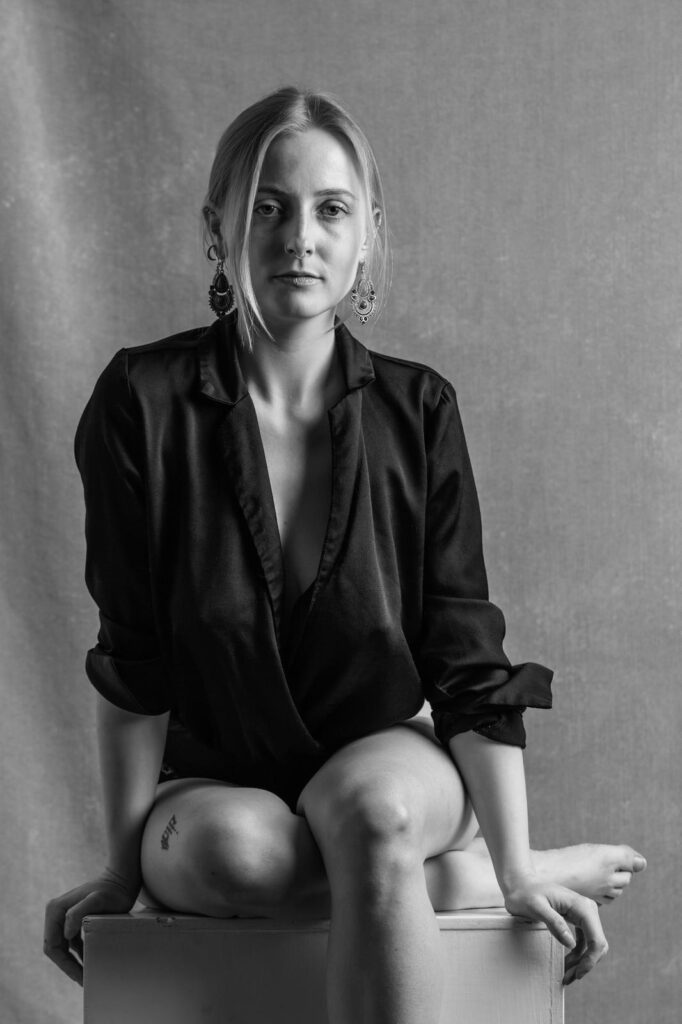 Ríona Denys is a Cork based French/Irish artist. Her abstract artwork reflects raw emotions of human nature and mental health. Ríona's art is uniquely intertwined in the appreciation of all arts, especially music. She is wholeheartedly involved in the electronic music scene in Cork and in merging different art forms together. Ríona's expression comes in the form of a channel between music and art, from 11pm on the night of the 22nd of September in Cork City Hall.
For Culture Night 2023, Ríona will be live painting on the DJ set of GRL vs Cailín and during the premiere of Hybrasil's 'Drones from the Island' Audiovisual show. This event is taking place in Cork City Hall and is organised by the Electronic Music Council, where she will also be exhibiting some of her work next to other local talented artists.
Aside from having live painted at Fuinneamh festival, Ríona co-organised and directed the arts of a techno festival in Cork. Ríona was also a member of the Electronic Music Council and ran social media accounts as well as networking. She co-organised a gig in the Laneway Gallery for Culture Night 2022 and was a guide of the exhibition 'Heroes and Villains.' Additionally, Ríona was an art technician in the Glucksman Gallery for an exhibition changeover 'Fashion Show'.
Last September, Ríona was selected as a participant for the Night Time Economy
Consultation with the National Participation Office (NPO) for young people aged 18 to 24.
The consultation report was then submitted to the Department of Tourism, Culture, Arts,
Gaeltacht, Sport and Media (DTCAGSM).
She is recognised for her unique live painting at Fuineamh Festival and is already involved
with other collectives to do more live paintings at gigs and festivals. Aside from having exhibited her work at multiple Art Shows and gigs ('Art Festival', 'Subculture Art Show', 'Spliff Market' etc.), Ríona's journey as an artist and point of contact in the music scene is thriving.
Links:
https://www.instagram.com/riona.denys/
https://www.instagram.com/riona.denys.art/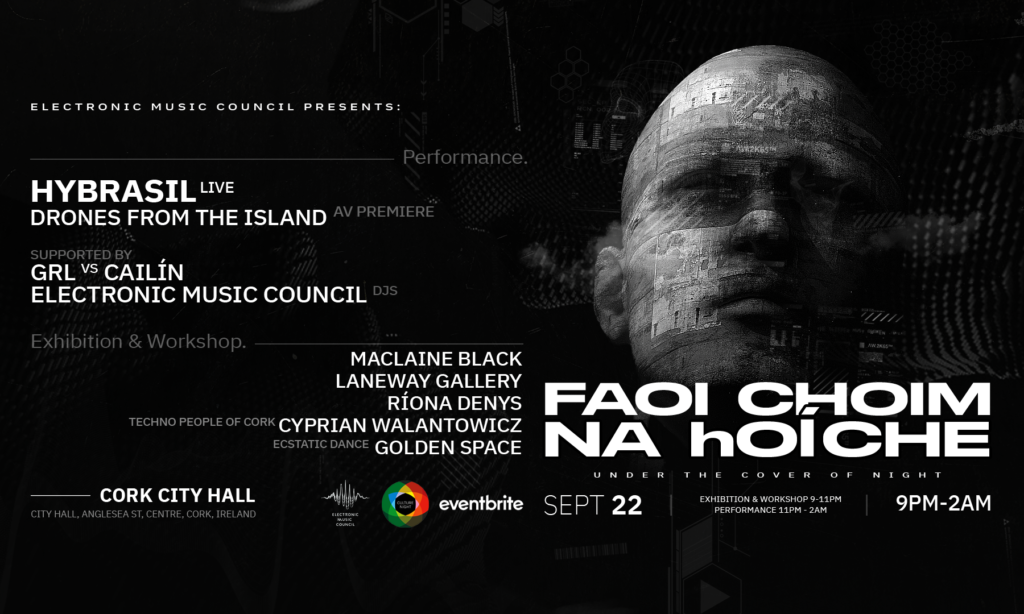 Tickets
Ticket link: https://www.eventbrite.com/e/faoi-choim-na-hoiche-culture-night-2023-tickets-698327876477?aff=ebdshpsearchautocomplete
Mailing List: https://electronicmusiccouncil.com/2023/08/31/1st-half-of-tickets-gone-sign-up-to-our-mailing-list-to-be-the-first-to-know-about-the-2nd-round/
Main Funding Body
Arts Council: https://www.artscouncil.ie/home/
Additional Sponsors
Poachers Drinks: www.poachersdrinks.com/
Underground Ovation: Underground Ovation (underground-ovation.com)
The Woodford Bar & Restaurant: www.thewoodford.ie
McSweeney Distribution & Logistics Ltd
Satellite Taxis: https://www.satellitetaxis.ie/
Primetime: https://prime-time.ie