Are you ready to embark on an extraordinary journey into the heart of electronic music, art, and dance? If so, you're in the right place. "Faoi Choim na hOíche; under the cover of night" is poised to take Cork by storm in 2023, and we're inviting you to be a part of something truly special. But that's not all. By joining our mailing list, you're not just signing up for an event; you're becoming a member of our vibrant, creative community.
Why Join Our Mailing List?
Being a part of our mailing list comes with a slew of perks that will make your experience with us even more memorable:
1. Exclusive Access to Pre-Release Tickets: Want to secure your spot at "Faoi Choim na hOíche" before anyone else? Our mailing list members get exclusive access to pre-release tickets, ensuring you never miss out on this mind-bending event.
2. Be the First to Know: We're not just about one event. As a member, you'll be the first to know about any upcoming events, workshops, and gatherings. Stay ahead of the curve and be in the know about the latest happenings in Cork's vibrant cultural scene.
3. Future Promotions: Our commitment to you goes beyond just one night. We'll keep you updated with future promotions, discounts, and offers, ensuring that your journey with us is not just memorable but also affordable.
4. Community Connection: When you join our mailing list, you become a part of a community of like-minded individuals who share your passion for art, music, and culture. Connect with fellow enthusiasts, share your experiences, and forge new friendships along the way.
How to Join
Signing up for our mailing list is quick and easy. Follow the link below, enter your email address, and you're in! It's that simple. 
https://electronicmusiccouncil.us21.list-manage.com/subscribe?u=4e3aadff22ad6278c649b0d74&id=cf570896e7
A Night to Remember
"Faoi Choim na hOíche" is not just an event; it's an experience that will awaken your senses and leave an indelible mark on your soul. With exclusive access to pre-release tickets, advance knowledge of upcoming events, and future promotions, being a member of our mailing list is your golden ticket to a world of cultural wonders.
Don't miss out on this opportunity to become a part of Cork's thriving artistic community. Join our mailing list today, and get ready to uncover the magic of "Faoi Choim na hOíche." We can't wait to welcome you to our community and share this incredible journey with you.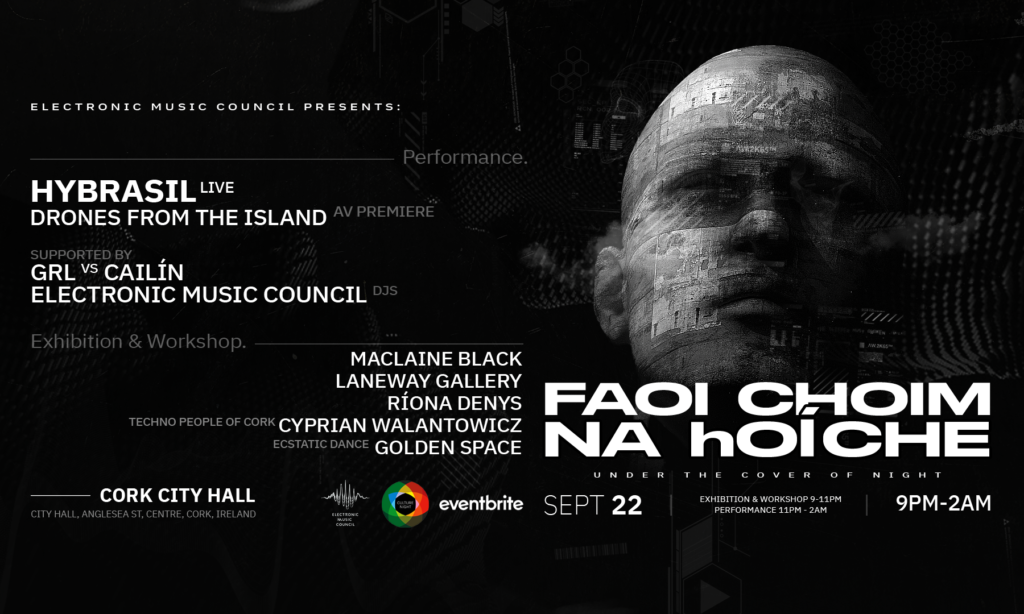 Main Funding Body
Arts Council: https://www.artscouncil.ie/home/
Additional Sponsors
Poachers Drinks: www.poachersdrinks.com/
Underground Ovation: Underground Ovation (underground-ovation.com)
The Woodford Bar & Restaurant: www.thewoodford.ie
McSweeney Distribution & Logistics Ltd
Satellite Taxis: https://www.satellitetaxis.ie/
Primetime: https://prime-time.ie